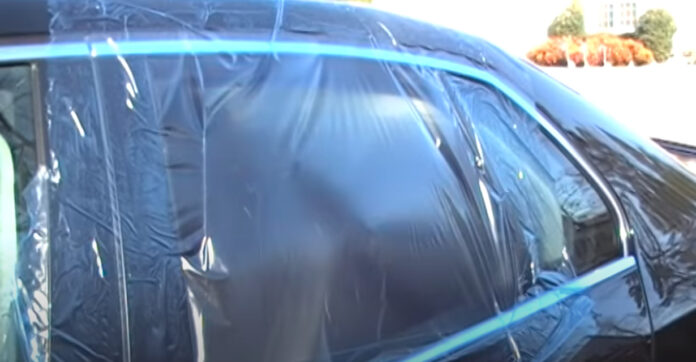 What is BlueShield Collision Film?
Collision, vandalism, and storm damage can leave vehicles exposed to the weather through broken windows and doors that are unable to close. Our Crash Wrap is a tough, flexible, thin, self adhesive plastic film used to cover these openings effectively sealing out weather damage.  Crash Wrap can be safely left exposed to the weather for up to one year and still remain flexible and easily removable. When it is removed, all the adhesive comes off with the film … it does not transfer to the car body nor does it stick to itself during the application process.
Crash Wrap must be applied to a clean dry surface to adhere correctly.
---
So why is our collision film blue in tint?
Blue is a contrast lens and reduces glare from visible white light (such as light reflected from mist, fog, snow, water) . Here is a visual example of light diffusion per the rainbow of color spectrum. You can clearly see the suppression of light wave.
---
Our collision film the clear leader!
Our wrap is also transparent unlike many other crash wrap films that are frosted and make it difficult to see through. The transparency of the film allows for a vehicle to be safely moved from one place to another without compromising visibility. Our wrap won't become discolored over time due to exposure to the elements and can be quickly and easily applied by one person. Crash Wrap is also repositionable and will still adhere to the vehicle. During application the loose end adheres quickly to the vehicle and holds itself in place while the open area is covered.