New Toughbook Certified Tablet Docking Station Provides Mobile Professionals and Physicians With Reliable Performance, Tablet Charging and Connection to Peripherals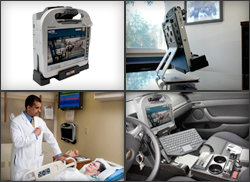 Havis Introduces the new Docking Station for the Panasonic Toughbook H2 handheld tablet PC
WARMINSTER, Pa. (PRWEB) October 10, 2012
Havis Inc., an ISO 9001:2008 certified company, introduced today the new Docking Station for the Panasonic Toughbook H2 handheld tablet PC. This rugged docking station is Toughbook Certified to ensure reliable docking and performance in medical, enterprise and in-vehicle workspaces.
The Docking Station for the Toughbook H2 enhances mobile worker productivity by providing a secure location for tablet charging and connection to peripherals, such as barcode scanners, printers and keyboards. Users can easily connect up to three USB cables, with additional access to Ethernet, video, power and serial ports.
By utilizing a thin design and top-facing ports, the docking station maintains a low profile when mounted to other equipment or directly to the wall. Its easy-to-use strain relief bracket prevents loose connections and accidental disconnects. Havis also offers optional USB extension cables for more convenient access from either or both sides of the docking station.
In addition to the Docking Station for the Toughbook H2, Havis will also be releasing the Desktop Stand for Tablet Docking Stations. With the Desktop Stand, mobile workers can transition from their vehicle to the office with minimal effort and without having to remove the tablet from its dock.
TOUGHBOOK CERTIFIED DOCKING STATION
As a Toughbook Certified Partner of Panasonic, Havis knows what it takes to meet the industry's toughest safety and quality standards. The Docking Station for the Toughbook H2 achieved Toughbook Certification by passing Panasonic's rigorous testing process and demanding performance standards.
More specifically, this docking station was tested to withstand MIL-STD 810G vibration testing, in-vehicle crash simulations, environment testing and extreme durability testing. For the mobile worker, this testing ensures that their tablet will remain securely docked and protected through rugged driving conditions and extreme work environments.
SECURE DOCKING IN HEALTHCARE ENVIRONMENTS
According to the Taking the Pulse® U.S. 2012 study by Manhattan Research, physician tablet use has almost doubled in the past year. 62 percent of U.S. physicians now own a tablet, and almost half of those have used their device at the point-of-care. Panasonic designed the Toughbook H2 as a more durable and sanitary device for hospitals and other healthcare environments.
Havis built this new docking station to complement the Toughbook H2 in these environments and provide a secure location for tablet charging and Internet access. The low-profile docking station complies with medical wall mounting requirements, allowing physicians to conveniently mount their H2 tablet in patient rooms, the nurses' station and operating rooms.
Doctors can also avoid the hassle of switching from the tablet to their desktop computer with Havis' Desktop Stand for Tablet Docking Stations. With the docking station's easy access to peripherals, such as a keyboard and mouse, doctors can transition smoothly between rounds and office hours.
FOLLOW HAVIS AND THE NEW DOCKING STATION FOR THE TOUGHBOOK H2
Stay up-to-date on the latest products and announcements from Havis through Facebook, Twitter and YouTube. To learn more about the features, specifications and certifications of the Docking station for the Toughbook H2, please visit http://www.havis.com/h2.
ABOUT HAVIS
Havis Inc. is a privately held company that manufactures in-vehicle mobile office solutions for public safety, public works, government agencies and mobile professionals. For over 80 years, the Havis mission has been to increase mobile worker productivity with industry-leading products that are built to the highest safety and quality standards and are designed with comfort in mind. Headquartered in Warminster, Pa., with an additional location in Plymouth, Mich., Havis currently employs 175 people. For more information on Havis, please call 1-800-524-9900 or visit http://www.havis.com.